MIAMi newsletter - Highlights of 2021
The MIAMi project
The MIAMi project aims at solving one of the most pressing questions in modern biotechnology: How do we get access to the literal thousands of pharmaceutically promising metabolites that exist in rare or hard-to-cultivate plants? Seven teams from all over Europe joined their expertise and know-how in order to answer this question by transforming common microbes like the bakers yeast (S. cerevisiae) into tiny, but easily growable bio-factories. Each of the partners is a specializst in one of the typical steps that have to be taken, in order to produce new metabolites in these cells. From identifying und understanding the genes that are involved in the production of these metabolites in their original plants, to refactoring and rapid prototyping biosynthetic pathways in yeast to first scale-ups and clinical testing of successfully produced compounds.

Scientific highlights
In 2021, the MIAMi team reached an important milestone on the way to refactor new and complex plant biosynthetic pathways in yeast (Kulagina et al. 2021). Researchers from the University in Tours, France, were able for the first time to assemble a complex seven-step biosynthetic pathway of the monoterpenoid indole alkaloid (MIA) vindoline, the precursor of the blockbuster cancer-medications vinblastine and vincristine. Creating a reliable source for these medical compounds is important for the well-being of many patients and the pharmaceutical industry, since they currently face regular and unpredictable shortages in production and delays in supply-lines of crucial plant-materials. The newly developed yeast strain is able to produce high titers of vindoline when fed with the much more common substance tabersonine. A complex cluster of seven individual genes mediates the transformation and represents an important milestone in the yeast-based production of complex plant molecules.
Another big step was made in accelerating gene-discovery in plants by refining the existing "virus-induced gene silencing" (VIGS) method in plants, which now enables more reliable gene knock-outs through the use of new reporter-genes (Yamamoto et al. 2021). The utility of this enhanced method was demonstrated by the discovery of the previously unknown enzyme serpentine synthase, which mediates an important step in the MIA production of C. roseus.
"Rare plant metabolites in yeast" – the MIAMi animation movie was published
The MIAMi project released a 3 minute animation short-movie that explains its goals and methods in a concise and entertaining way. Viewers can learn about the importance of monoterpenoid indole alkaloids (MIAs) and why and how the MIAMi partners aim at reproducing these precious substance in yeast. Thanks to the volunteer efforts of the highly international MIAMi team a total of eleven languages are available for the subtitles.
Watch the whole movie on Youtube:


"Computer-aided design of synthetic DNA constructs" – A webinar by Doulix
Doulix is a free online toolkit for fast, easy and convenient gene design and gene synthesis. It offers all functionalities necessary for streamlined design of individual genes, gene clusters and vectors – all with a strong focus on standardized and reliable genetic elements. You can try out its full functionality on Doulix´s official website here.
Viewers can now learn all about its functions, tools and even some hints at future developments  in a new, free webinar. You can watch the whole video here.
Knowledge exchange and cooperative problem solving at MIAMi team meetings

The MIAMi team continued its tradition of bi-annual team meetings in order to exchange know-how and news in the progress of technology. Each of the seven teams comprising the MIAMi consortium appeared with one or several speakers in each of these meetings in order to give updates about their parts of the project and further developments.
This format proved to be a good adaptation to ongoing Covid-19 restrictions and enabled the detailed discussion of research strategies, next aims and potential roadblocks. Nonetheless the team members look forward for in-person meetings hopefully starting again in the year 2022!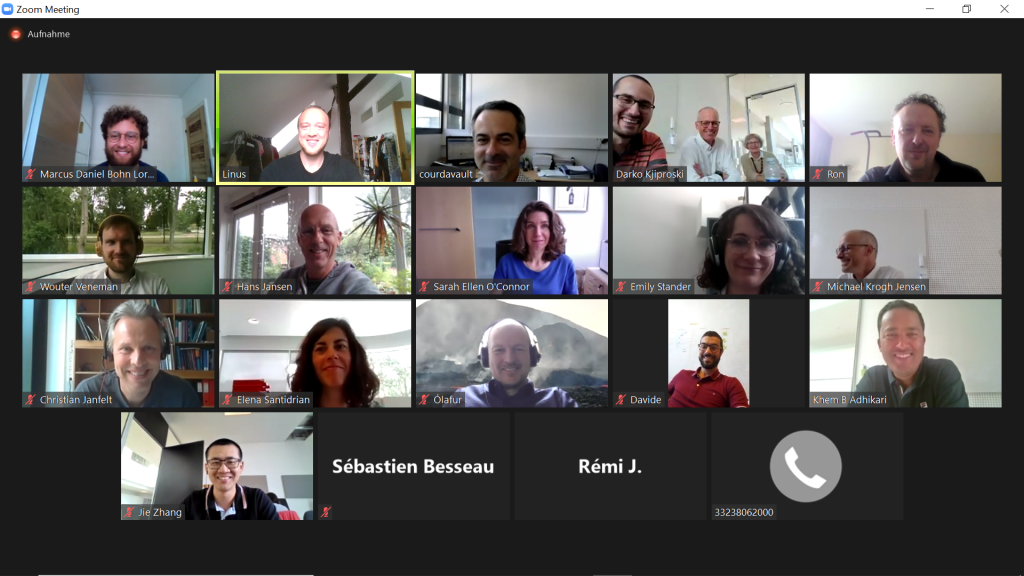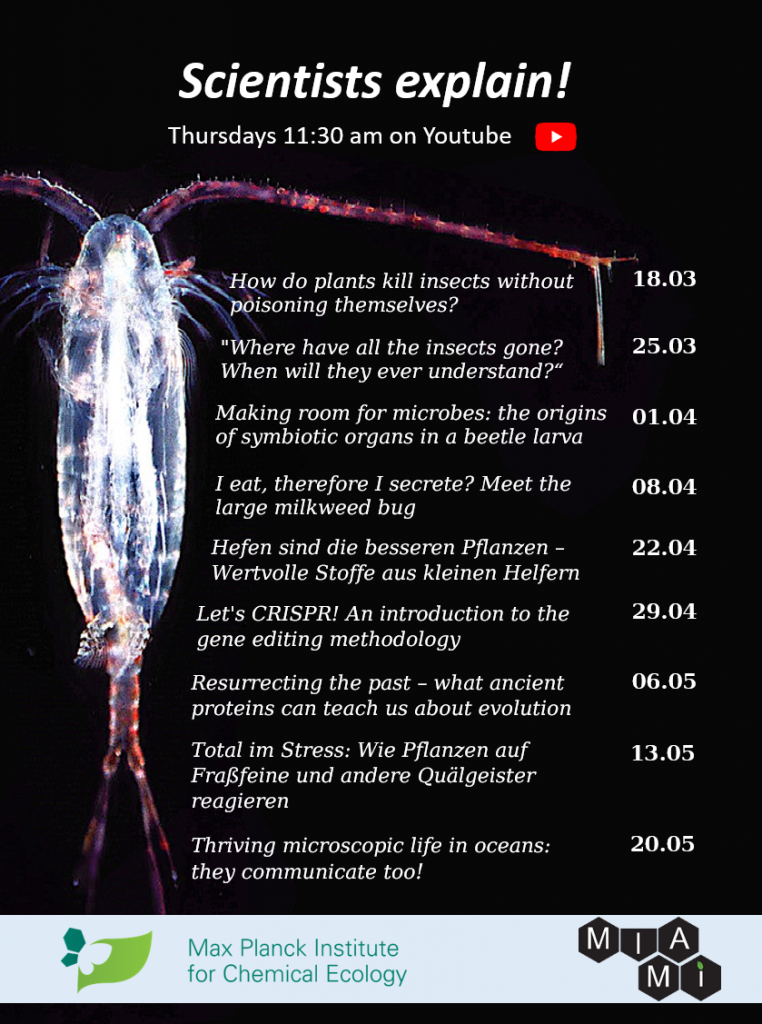 Scientists explain! Season 3
The science education cooperation "Scientitsts explain" between the MIAMi project and the Max-Planck Institute for Chemical Ecology in Jena, Germany went into its third  season with nine public live-stream presentations of individual scientists on Youtube.
Each scientist explained his or her topics in short talks aimed at the general, scientifically interested public. The MIAMi project was presented in detail by Linus Naumann in his presentation "Yeasts are the better plants – Precious compounds from small helpers", which went live on the 22nd of April 2021.
MIAMi publications in 2021
Carqueijeiro et al. "Alternative Splicing creates a pseudo-strictosidine B-D Glucosidase modulating alkaloid synthesis in C. roseus", Plant Physiology, Volume 185, Issue 3, March 2021, Pages 836–856, https://doi.org/10.1093/plphys/kiaa075
Yamamoto et al. "Improved virus induced gene silencing allows discorbery of a serpentine synthase gene in Catharanthus roseus",

Kulagina et al. "Peroxisomes: A New hub for metabolix Engineering in Yeast", Front Bioeng Biotechnol. 2021; 9: 659431, https://doi.org/

10.3380/fbioe.2021.659431

Courdavault et al. "Metaboloic engineering for plant naturals products biosynthesis: new procedures, concrete achievements and remaining limits", Natural Product Reports, Issue 12, 2021, https://doi.org/10.1039/D0NP00092B
Stander et al. "Computational biotechnology guides elucidation of the biosynthesis of the plant anticancer drug camprothecin", Comput Struct Biotechnol J,

2021 Jun 22;19:3659-3663,

https://doi.org/10.1016/j.csbj.2021.06.028

Kulagina et al. "Enhanced bioproduction of anticancer precursor vindoline by yeast cell factories", 2021 Nov;14(6):2693-2699. https://doi.org/10.1111/1751-7915.13898

Romero-Suarez et al. "Supplying plant natural products by yeast cell factories" Current Opinion in Green and Sustainable Chemistry, Volume 33, 2022, 2452-2236, https://doi.org/10.1016/j.cogsc.2021.100567